At this year's GCA conference in June we heard promising reports on the steady progress being made on one of the key issues in the chilled supplier sector; delayed payments as a result of the practice by retailers called 'drop and drive'.
Good Faith Receiving (GFR), introduced by a number of retailers in response to pressure from the GCA, is already delivering reduced claims of between 70%- 90% for participating suppliers. Although great news for those suppliers already signed up, the topic will continue to remain a point of focus for Christine Tacon, Groceries Code Adjudicator, and her team in 2018 to encourage all suppliers to fully engage with GFR in order to reap the same benefits.
" This is still the number one concern highlighted by Suppliers in 2017 survey...Drop and Drive remains firmly in my sights" Christine Tacon, GCA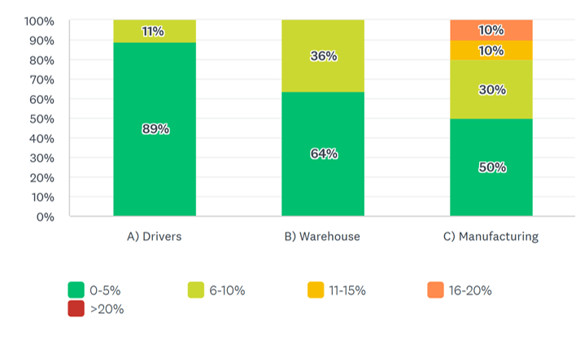 The story so far...
At our recent meeting in October, 25 of the UK's key chilled suppliers met for their quarterly review as part of Simply Supply Chain's workgroup hosted at the Culina RDC. The group update focused on how retailers are addressing the drop and drive issue – one practiced by 8 of the top 10 retailers who have been deducting payments for unsubstantiated claims of 'undelivered' product.

In 2014 this cost the suppliers in the room circa £15m; this has now dropped below c. £10m and is predicted to fall further and even faster in 2018.

Simply Supply Chain has led the Drop and Drive Claims Workgroup – a supplier-led action group, for the last 3 1/2 years; working with chilled suppliers, retailers and the GCA to support the implementation of a variety of solutions to change the way goods are received and paid for by the Top 10 retailers - 3 of whom who were until recently under threat of investigation by the GCA.
As a workgroup our 2 key objectives for 2017 were:
to change the current process to one that is more sustainable, equitable and cost-effective for both retailer and supplier

to remove non-value-add processes and re-focus these resources on optimising on-shelf availability
---
Reporting on retailer progress to suppliers this month was particularly rewarding:
Sainsbury's ASDA and Morrisons

are now offering Good Faith Receiving (GFR), with

claims typically reduced by 70-90% for those suppliers able to engage

Tesco

has fully implemented their new e-POD - already showing big claims reductions
M&S has revised claims dispute process - all claims with provided proof are resolved

favourably within 7 days

Coop has now STOPPED deducting for short delivered product and will be paying

100% of the invoice



The workgroup has also benefitted from support with best practice implementation across the following 3 areas:

Reducing the causes of error that leads to claims
Disputing claims successfully to mitigate their impact
Ensuring suppliers are prepared and able to access the benefits of the Good Faith Receiving (GFR) and e-POD programmes developed with the largest retailers
The results so far for participating suppliers are, without doubt, good news stories for the workgroup and we are delighted to be able to share some typical examples: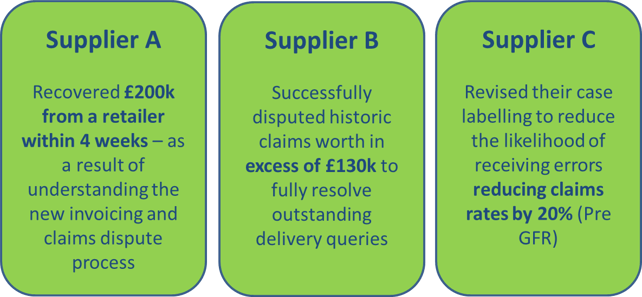 ---
SIGN UP FOR 2018 MEMBERSHIP: registration is now open for new suppliers interested in reducing their quantity claims by up to 90%

Share best practice, minimise errors and eliminate unsubstantiated claims - join an established group of suppliers maximising the opportunity from the Drop & Drive Claims Workgroup
Pepsi Co - "We are a huge fan of GFR"
Wyke Farms - "This group brings a lot of weight to the supplier - retailer relationship"

Innocent - "It has been very useful to see how other suppliers go about GFR, all our questions have been answered and we are now ready to get on board"