We are delighted to announce that last night the Drop & Drive Workgroup won the Supply Chain Initiative of the Year category at the Grocer Gold Awards. We were up against some strong competition and we wish to congratulate all finalists and winners for their outstanding achievements.
Jonathan Kittow, Chairman of the Drop & Drive Supply group attended the award ceremony last night and collected the award on behalf of the group...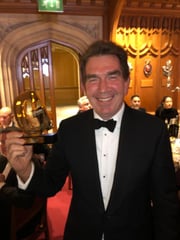 "I feel both overjoyed and humbled at the same time…to win the award in itself is amazing, to be selected over such exalted company is beyond our wildest dreams, although at least there is some direct consolation for PepsiCo and Pilgrims Foods.
We launched the campaign with a group of suppliers almost 7 years ago to the day, and I was asked to raise the collective suppliers' head above the parapet presenting our case to a room full c60-70 retailers, at one of the then Grocery Code Adjudicator's first quarterly review meetings.
We are incredibly proud of what we have achieved collectively, as I represent the efforts of so many…from Culina Group who first raised the issue, to all of the major retailers who have embraced and then engaged in changing their receipting processes, to RAS for developing the Good Faith Receipting service and all of the suppliers working together to make this happen.
I would also like to thank Christine Tacon for her support initially and also to Mark White her successor who continues to support our cause. We have expanded our remit to other examples of delayed payments, sales and forecasting best practice and most recently to simplifying the chilled supply chain network.
This award recognises a truly industry changing end-to-end collaboration between suppliers, retailers and service providers across the chilled supply chain and I am delighted to accept it on behalf of all of the 1,000s of contributors who have made it happen and continue to make the food supply chain one of the most challenging and rewarding sectors to work in."
---
To find out more about our 2022 priorities / joining the group please get in touch at hello@simply-sc.com . You can also download the case study
We would love to hear from all suppliers interested in collaborating to achieve sustainable improvements for the industry.
Or call us on +44 (0)845 6522251