Thank you to the CILT Awards for Excellence for organising a brilliant virtual event last night. There were so many worthy winners and listening to their stories of resilience and determination to go above and beyond during what has been a tough year, was equally heartwarming and impressive. We extend our congratulations to all!
Sadly, we were pipped at the post by ZigZag - a truly innovative global returns platform that many of us have probably already used, allowing retailers to let customers choose where to drop off and return their unwanted purchases, making the returns process so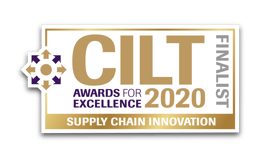 much simpler.
As one of only three finalists in the Supply Chain Innovation category we are still extremely honoured to have been selected, especially during a year when so many (more entrants than any previous year) brilliant initiatives were proposed, many responding to the pandemic itself. We are incredibly proud of the recognition our Drop & Drive Claims workgroup continues to achieve - thank you to all our members, Culina Group Limited, Retail & Asset Solutions Ltd, and the GCA plus all the major retailers for playing such a vital part in supporting and continuing to deliver positive change for the supply chain industry.
---
We have just entered for two more awards this year, having reduced claims levels to the same as the supplier accuracy target of 3/10,000 - a reduction of 95% from where we started out - a truly significant milestone that we can all put on our CVs!
But there is more to be done and we want to collaborate with our peers and the retailers to do so much more:
Supplier best practice standards, to help retailers make even fewer errors in DCs and In-store
GRNI debts - enabling suppliers to recover historic PO discrepancies
Sales and forecasting improvements - to reduce the cost of waste and inefficiency
Supply chain optimisation - more efficient order multiples for suppliers and retailers
We look forward to sharing the progress on the above with you all, but look forward even more to working with those of you who are helping to push these initiatives forward, for the benefit of all. Many thanks again for your support and we look forward to sharing an update on all our progress at the next meeting on April 14th.
---
Interested in joining?
We are always happy to talk with FMCG companies who are willing to invest in challenging the status quo, and work in collaboration with the retailers and their peers to help make a difference. If you would like more information about becoming a member of the Drop & Drive workgroup then please do get in touch.
Visit our Events & Membership page for further detail on all 2021 topics