Back in 2014 a group of 20 suppliers, led by Jonathan Kittow, came together to form a workgroup that bought the practice of 'drop and drive' to the attention of the GCA. Evidence from the workgroup showed participating suppliers were being deducted, without any substantiation, £15m a year between them for alleged discrepancies in their deliveries. It was this evidence that Christine Tacon needed to publish her damning dossier on the practice and to introduce Good Faith Receiving. In 2018 those same suppliers who have fully engaged with GFR are now seeing reduced claims by up to 90%.
---
With Waitrose becoming the latest retailer to introduce significant changes to its drop and drive procedures, it is now clearer than ever that this is not an opportunity to be missed by suppliers. There has been real progress on this issue since initial figures were produced to the GCA.
"There is a great opportunity for suppliers to almost eliminate claims" says Jonathan Kittow, "but retailers cannot force suppliers to sign up and many suppliers are wary of retailers' offering GFR as a solution to a problem they do not fully understand. The experience of the group is that they have nothing to fear and everything to gain"
GFR Workshop
With this in mind, Jonathan Kittow, in partnership with Culina, ran a successful workshop event last week aimed at smaller suppliers to demonstrate the benefits of GFR, how suppliers can engage with the retailers and which steps they need to take to deploy GFR efficiently back into the organisation. Representatives from Upfield, FA Gill International, Fayrefield Foods, Belton Farms, Lacka Foods to name a few attended the event and came away with practical insights and a framework to be able to apply GFR back on the business.
Feedback from the day was overwhelming with over 95% of delegates confirming they had everything they needed to immediately apply GFR.
---
A big thank you to...
Innocent Drinks for hosting the event at their London office and to all our presenters on the day;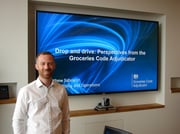 Matt Sabourin, Head of Operations and Policy, GCA
Martin Young from Wyke Farms
Ash Faisal, Head of Supply Chain Operations at RAS
"I was pleased to have the opportunity to talk to direct suppliers to retailers about the Groceries Supply Code of Practice and what they need to know about paragraph 5 of the Code: No delay in payments." Matthew Sabourin, Head of Policy and Operations, Groceries Code Adjudicator
---
GFR is available to ALL chilled suppliers able to meet the GFR criteria.