At our first Driver Crisis and Brexit review meeting of the year we were delighted to welcome c.25 suppliers, representing both the ambient and chilled sectors.
Robert Hardy, CEO of Eori UK, shared his insights into how the intricacies of the new Brexit requirements were bedding in and highlighted a number of areas where suppliers might find opportunities to reduce the cost of administration, now that Brexit is a business-as-usual requirement. More to follow as we develop a best practice assessment for members to help identify these opportunities in the coming months.
Kieran Smith, CEO Driver Require then shared his insights on how the sector performed over the Christmas period and anticipated challenges for 2022. To supplement the discussion, our survey of 15 members highlighted the impact on service over the festive period and the key challenges in the months ahead.
Impact on service levels to the major retailers over Christmas
Suppliers reported that overall, less than 30% were >3% below target (a marked improvement over the autumn figures) however, nearly half suffered from product availability issues that led to missing targets by more than 3% and over 1/3rd suffered a >5% drop in availability over the period.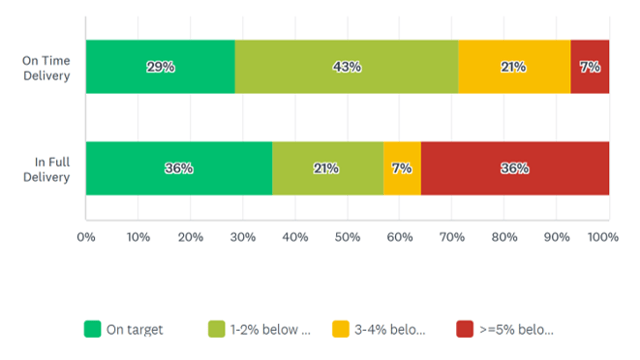 Levels of absenteeism that occurred during December
Whilst the driver crisis is not over, it appears to have lessened in its criticality –Kieran Smith confirmed they are seeing the over 45's now returning to the industry, having left in droves, with the promise of better pay and incentives and in a better position to negotiate their shifts and work patterns with the hauliers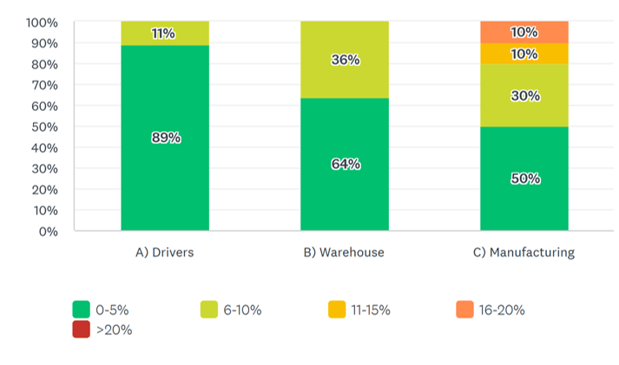 However, the critical pain point has move on as a result of Omicron, with unsustainable levels of absenteeism in warehousing and manufacturing which is impacting product availability. Suppliers have also reported losing some of their workforce to the hospitality and events industry as these sectors re awaken. There is sustained pressure to manage wages and incentives effectively for drivers, warehouse and manufacturing staff as we face a challenging year with a finite labour pool and heavy competition across all sectors for skilled labour.
Suppliers remain concerned about labour shortages and the increased administration required to secure drivers, manage UK customer expectations and deal with the additional burdens and lead-time as a result of the Brexit documentation.
The Customer Supply Group (ambient) and Drop and Drive Group (chilled) each have a programme designed to tackle the issues of rising costs through smarter supply chain management and collaboration, as well as share best practice in key areas of operational excellence.
To join us for a free taster session or to find out more please get in touch on hello@simply-sc.com